Internship Program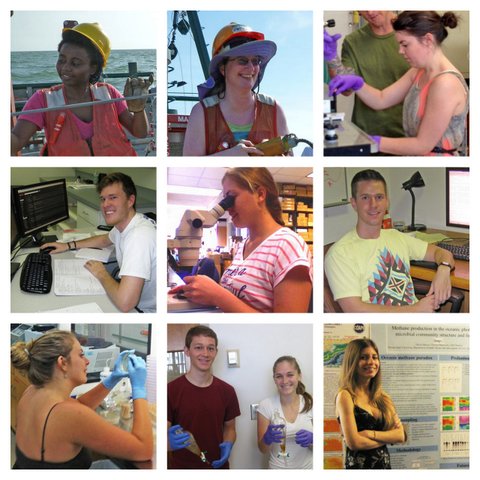 During the course of Deep-C's three-year research effort, the project offered internships. The internship program carefully matched educators and students majoring in STEM (Science, Technology, Engineering and Mathematics) fields to research opportunities proposed by Deep-C scientists at the various Deep-C educational member institutions.
The program offered participants opportunities to conduct research in various fields of science as well as gain real-world experience working with scientists on projects that support the Deep-C mission. Internships varyed in focus and duration (anywhere from a week to a semester) based upon the needs of participating host scientists. Below you will find links to some of the internships offered, along with blog posts by the participants.
DEEP-C RESEARCH INTERNSHIPS ARE NO LONGER AVAILABLE.
---
Past Research Internships
Title: Fish Diversity in the Deep Gulf of Mexico
Host: Dr. Chip Cotton
Location: Florida State University Coastal and Marine Laboratory, St. Teresa, FL
Semester: Summer 2014
Intern: Erica Levine (Blog)
Title: Deep-C Web GIS Map Viewer
Host: Olmo Zavala-Romero
Location: Florida State University, Center for Ocean-Atmospheric Prediction Studies, Tallahassee, FL
Semester: Summer 2014
Intern: Harshul Pandav (Blog)
Title: Supporting Earth-System-Model Data Processing, Validation, and Analysis of Multiple Model Experiments Followed by Scientific Evaluation of Results
Host: Dr. Sergio deRada
Location: Naval Research Laboratory, Stennis Space Center, MS
Semester: Summer 2014
Interns: Rachel Holladay (Blog) and Sam Holladay (Blog)
Title: Molecular Microbial Oceanography
Host: Dr. Richard Snyder
Location: University of West Florida, Center for Environmental Diagnostics and Bioremediation, Pensacola, FL
Semester: Summer 2014
Intern: Katherine Vaccaro (Blog) and Cynthia Kane (Blog; Northern Gulf Institute Diversity Internship)
Title: Using Nitrogen Isotopes to Characterize Nitrogen Cycling in the Gulf of Mexico
Host: Dr. Angela Knapp
Location: Florida State University, Department of Earth, Ocean and Atmospheric Science, Tallahassee, FL
Semester: Summer 2014
Intern: Herbert Johnson (Blog)
Title: Developing an Atlantis Model for Gulf of Mexico Reef Fisheries
Host: Dr. Stephen Gosnell
Location: Florida State University, Coastal and Marine Laboratory, St. Teresa, FL
Semester: Summer 2014
Intern: Emily Goetz (Blog)
Title: Phytoplankton Distributions in the Northeast Gulf (Northern Gulf Institute Diversity Internship)
Host: Dr. James Nienow
Location: Valdosta State University, Department of Biology, Valdosta, GA
Semester: Summer 2014
Intern: Christopher Horruitiner (Blog)
Title: Understanding Changes in Macrofaunal Community Structure Following the Deepwater Horizon Oil Spill
Host: Dr. Amy Baco-Taylor
Location: Florida State University, Department of Earth, Ocean and Atmospheric Science, Tallahassee, FL
Semester: Spring 2014
Interns: Meaghan Faletti (Blog) and Ben LaBelle (Blog)
Title: Benthic Foraminifera Community Response to the Deepwater Horizon Blowout
Host: Dr. Patrick Schwing
Location: University of South Florida, College of Marine Science, St. Petersburg, FL
Semester: Spring 2014
Intern: Emily Hladky (Blog)
Title: Networking Students through Ocean Currents
Host: Dr. Villy Kourafalou
Location: University of Miami, Rosenstiel School of Marine and Atmospheric Science, Division of Meteorology and Physical Oceanography, Miami, FL
Semester: Fall 2013
Intern: Heath Martin (Blog)
Title: Analyzing Sail Buoy Data and Validating Oil Drift System
Host: Dr. Lars R. Hole
Location: Norwegian Meteorological Institute, Bergen, Norway
Internship Open To: Graduate students with a minimum of 3 years of study of mathematics and geophysics. Minimum GPA=3.0.
Semester: Fall 2013
Intern: Mahmud Hasan Ghani (Blog)
Title: Microbial Methane Production in the Aerobic, Open Ocean
Host: Dr. Olivia Mason
Location: Florida State University, Dept. of Earth, Ocean & Atmospheric Science, Tallahassee, FL
Semester: Summer 2013
Intern: Chrissie Rakowski
Title: Hydrologic Measurements in the De Soto Canyon
Host: Dr. Nico Wienders
Location: Florida State University, Dept. of Earth, Ocean & Atmospheric Science, Tallahassee, FL
Semester: Summer 2013
Intern: Dana Fields (Blog)
Title: Coupling CAEDYM to the Gulf of Mexico model and Evaluating the Nutrient Cycle
Host: Dr. Eric Chassignet
Location: Florida State University, Center for Ocean-Atmospheric Prediction Studies, Tallahassee, FL
Semester: Summer 2013
Intern: Taylor Shropshire (Blog)
Title: Biodegradation of Crude Oil by Hydrocarbon-Degrading Bacteria Isolated from Beach Sands
Host: Dr. Joel Kostka
Location: Georgia Institute of Technology, School of Biology, Atlanta, GA
Semester: Summer 2013
Interns: Curtis Okolovitch (Blog) and Kala Marks (Blog)
Title: Molecular Microbial Ecology
Host: Dr. Richard Snyder
Location: University of West Florida, Department of Biology, Pensacola, FL
Semester: Summer 2013
Intern: Chelsea McCurry (Blog)
Title: Validating Surface Oil Drift Models
Host: Dr. Dmitry Dukhovskoy
Location: Florida State University, Center for Ocean-Atmospheric Prediction Studies, Tallahassee, FL
Semester: Summer 2013
Intern: Jonathan Ubnoske (Blog)
Title: Phytoplankton Distributions in the Northeast Gulf (Northern Gulf Institute Diversity Internship)
Host: Dr. James Nienow
Location: Valdosta State University, Department of Biology, Valdosta, GA
Semester: Summer 2013
Intern: Charnelle Bland (Blog)
Title: The Long-Term Effects of the Deepwater Horizon Oil Spill on Sediments and Plankton in the Northern Gulf of Mexico
Host: Dr. Patrick Schwing
Location: University of South Florida, College of Marine Science, St. Petersburg, FL
Semester: Summer 2013
Intern: Lauren Reilly (Blog)
Title: Bridging the Gulf: Using Science to Inform Policy in the Northeastern Gulf of Mexico
Host: Meredith Field
Location: Florida State University, Center for Ocean-Atmospheric Prediction Studies, Tallahassee, FL
Semester: Summer 2013
Intern: Rebecca Keenan (Blog)