Gulf of Mexico Curriculum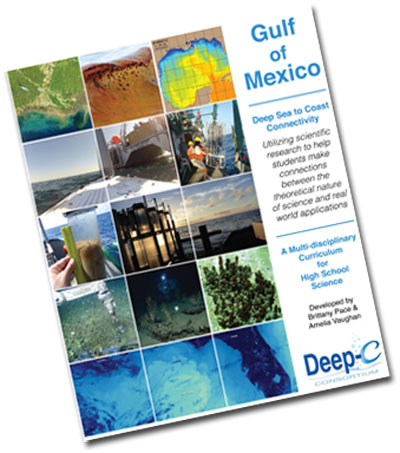 Deep Sea to Coast Connectivity: Utilizing scientific research to help students make connections between the theoretical nature of science and real world applications
The Gulf of Mexico multidisciplinary curriculum was developed around the five main research areas of the Deep-C Consortium: geomorphology, geochemistry, ecology, physical oceanography, and modeling. Each module includes five cumulative lessons, background information on the topic, relevant supplementary reading materials, a glossary, and an assessment. The purpose of this curriculum is to:
Provide teachers with a user-friendly curriculum that will introduce students to real-world applications of science as well as specific examples of environmental disasters – their impacts on ocean ecosystems as well as nature's ability to and mechanisms for recovering from such events.
Synthesize some of the Deep-C Consortium's research efforts, to date.
Increase Gulf of Mexico literacy.
It is our hope that this curriculum can serve as a model for future curricula developed based off of scientific research endeavors.
Contributing experts are listed throughout curriculum. Many thanks to these Deep-C researchers and students who edited, authored content, or assisted with development of the lesson plans.
Aligned with Ocean Literacy Principles and the Next Generation Sunshine State Standards
Ocean Literacy: The Essential Principles of Ocean Sciences for Learners of All Ages, Version 2 was published in March 2013. http://oceanliteracy.wp2.coexploration.org/
Next Generation Sunshine State Standards: CPALMS is the state of Florida's official source for standards
information and course descriptions. http://www.cpalms.org/Public/
---
Click here to download a PDF of the entire curriculum

(~11.5mb)
OR you can download individual modules using the links below.



The

Deep-C Consortium conducted an interdisciplinary study
of deep sea to coast connectivity in the northeastern Gulf of Mexico.

This research was made possible by a grant from
BP/The Gulf of Mexico Research Initiative to the Deep-C Consortium
For questions or feedback, email This email address is being protected from spambots. You need JavaScript enabled to view it.