"Scientists in the Schools" Program
Hands-on program provides students access to scientists and their research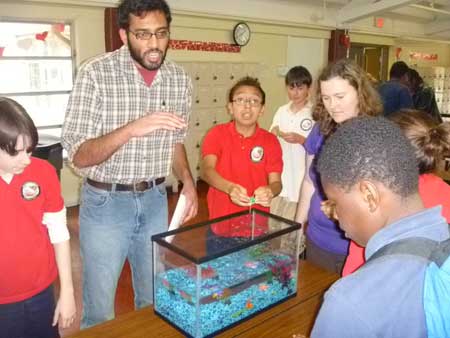 Deep-C Researcher Arvind Shanthram explains plankton's important place
in the ocean food chain during a classroom visit. Photo Credit: Meredith Field
The Deep-C Consortium has implemented an innovative program, modeled after a successful initiative at Vanderbilt University, that connects middle school students with Deep-C research scientists.
In partnership with local middle school science teachers, a series of three classroom visits are led by Deep-C scientists. The visits focus on providing students with insight into the issues being faced in the Gulf of Mexico and the research that is being conducted to shed light on the long term effects of the 2010 oil spill. Each visit is concluded with a hands-on activity that allows the students to make connections with the concepts that are explored.
Four middle schools in the Florida panhandle participated this year and were visited during Spring 2013. The program provided a great experience for the students and researchers alike!
For more information or to schedule a visit for your classroom This email address is being protected from spambots. You need JavaScript enabled to view it..
| | |
| --- | --- |
| | A classroom exercise where students try to achieve neutral buoyancy! Photo credit: Amelia Vaughan |
---
Interested in implementing a "Scientists in the Schools" program at your institution?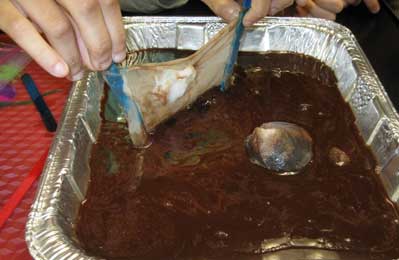 Trying to find the most efficient way to clean up an oil spill! Photo credit: Meredith Field
Below are sample presentations and lesson plans being used by the Deep-C "Scientists in the Schools" program. If you are interested in implementing this program in your community, This email address is being protected from spambots. You need JavaScript enabled to view it.. We will be happy to provide you with the PowerPoint presentations and lesson plans (see examples below), as well as assessment materials. We may even be able to arrange for guest scientists in your classroom.
General Instructions (Coming Soon)
Part 1: The Great Gulf of Mexico & Phenomenal Physical Oceanography
Lesson Plan (coming soon)
Part 2: Gulf of Mexico Ecology (LIFE!)
Lesson Plan (coming soon)
Part 3: Human Impacts on the Gulf of Mexico
Lesson Plan (coming soon)
---

Meet our 2013 Scientists in the Schools

| | | |
| --- | --- | --- |
| Caroline Johansen is currently in the second year of her Master's degree in Oceanography at Florida State University. She is studying the Dynamics of Hydrocarbon Vents in the Gulf of Mexico. Caroline's interest in Oceanography stems from a love of the ocean that was encouraged having grown up in different major ports across the globe. | | Arvind Shantharam is a research assistant and PhD student in the Oceanography department at Florida State University. He is studying sediment macrofauna in DeSoto Canyon. |
| Brian Wells is a PhD student in oceanography at Florida State University. He is interested in tar degradation in Gulf beaches and is conducting experiments on crude oil degradation. | | John Kaba is a PhD student in oceanography at Florida State University. He is studying the impact of crude oil on coastal sandy environments and benthic oxygen consumption. |
| Dr. Nico Wienders is a research faculty at Florida State University and holds a PhD in physical oceanography from France in 2000. Dr. Wienders spends half of his time in the field, preparing instruments and collecting data. | | Dr. Hannah Hiester is an Assistant Research Scientist at Florida State University's Center for Oceanic and Atmospheric Prediction Studies. She is currently working on developing an earth systems model of the DeSoto Canyon. |
| Robbie Nedbor-Gross is a master's student in meteorology and a research assistant at Florida State University's Center for Oceanic and Atmospheric Prediction Studies. He is studying the inter-annual variability of the Gulf of Mexico loop current. | | Sarah Tominack is a master's student in biology at the University of West Florida. She is studying the spatial and temporal variations in the community structure of marine archaea in the Gulf of Mexico. |